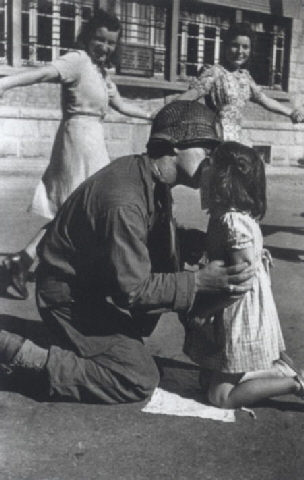 Above
Artist - Tony Vaccaro
Title - The kiss of liberation
Medium - Gelatin Silver Print
Size - 23.8 x 17.6 in. / 60.5 x 44.8 cm.
Year - 1945
Misc. - Signed, Inscribed
Long Island City, NY May 1, 2009 - Favorite son of Hunters Point, and world famous photograph, Tony Vaccaro left for Europe with a PBS Production crew.

PBS is filming a TV Special to mark the 65th Anniversary of D-Day and the beginning of the end of World War II. Vaccaro will be landing on Omaha Beach to re-enact the US and Allied Troops liberation of France in 1944; and, ultimately the end of WWII

Omaha Beach is the code name for one of the main landing points of the Allied invasion of German-occupied France in the Normandy landings on June 6 1944, during World War II. Vaccaro is author of a book and photo journal Entering Germany: 1944-1949 (Hardcover)

The PBS Special will air in November

Tony Vaccaro (b. December 20, 1922), is an American photographer who is best known for his photos taken in Europe during 1944 and 1945 and in Germany immediately after World War II. After the war, he became a renowned fashion and lifestyle photographer for U.S. magazines.
Above Photographs of Tony Vaccaro taken in April 2009 are Copyright Protected. All Rights Reserved by Arthur Rosenfield. 2009